The APFFA Primary Care Physician (PCP) Education Toolkit
The APFFA Primary Care Physician (PCP) Education Toolkit is a new, comprehensive, educational asset designed to arm PCPs, with practical resources to aid the identification, assessment and ongoing management of those at risk of fractures, and thereby improve the safety and quality of patient care.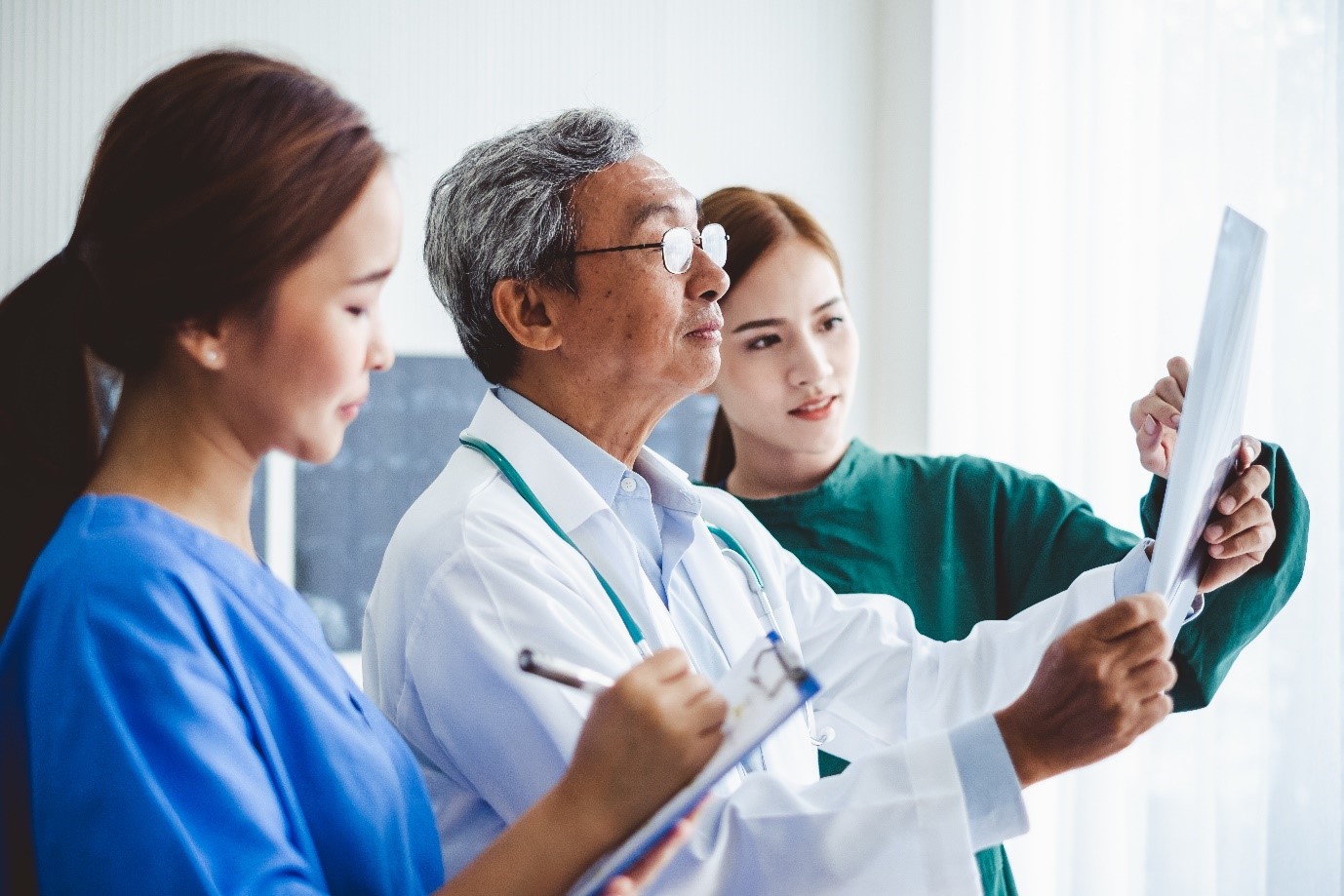 The Education Toolkit contains a host of materials and templates to enable the planning and execution of two, one-hour-long, PCP workshops:
Highlighting the growing burden of fractures;
Identifying patients at high risk of fracture; and
Reinforcing the importance of secondary fracture prevention.
---
The role of PCPs in reducing the burden of fracture
PCP are uniquely placed to identify and manage patients at risk of fractures, playing a role in reducing the burden of osteoporotic fractures, which can compromise survival, function and quality of life, by acting promptly and appropriately after the first fracture.1
Currently, 70-85% of patients presenting to their PCP or hospital with a minimal trauma fracture, are neither assessed for osteoporosis, nor appropriately managed, to prevent further fractures.2
While those who sustain a minimal trauma fracture may not always present to a hospital, almost all who do, will eventually see their PCP, positioning the PCP as pivotal to ensuring patients are appropriately managed post- fracture.2
Despite the presence of generally safe and effective treatments, only a minority of low trauma fracture patients are evaluated and treated for underlying osteoporosis.3 In fact, the vast majority of older adults who sustain fractures do not receive subsequent interventions to identify and treat underlying, modifiable fracture risk factors.4
The Education Toolkit arms PCPs with the necessary tools to make impactful change in clinical practice, by ensuring optimal fragility fracture management.
---
Why act?
The incidence of a fragility fracture is sufficient to diagnose osteoporosis, regardless of a patient's bone mineral density (BMD).1 Following a fracture, a patient is 5 times more likely to sustain another fracture within the first year.5
Worldwide, osteoporosis accounts for nearly 9 million fractures each year.6
More than 200 million people are currently living with osteoporosis.7
1 in 3 women over 50 years of age, and 1 in 5 men will experience osteoporotic fractures in their lifetime.7
Older people represent the fastest growing age group. By 2050, 1 in 6 people worldwide will be aged over 65 (16%), a substantial increase from 1 in 11 people (9%) in 2019.8
The estimated number of hip fractures worldwide will rise from 1.7 million in 1990, to 6.3 million in 2050.9
Less than 1/3 of hip fracture patients regain their pre-fracture level of mobility,10 while more than 80% are restricted with their daily activities, such as driving or grocery shopping.11
---
The Education Toolkit comprises:
Facilitator guide – Provides an overview of the education program and a step-by-step guide to facilitate workshops, including a suggested agenda, learning objectives, a meeting preparation checklist and comprehensive corresponding speaker notes for each presentation.
Workshop PowerPoint – Presentation slides to educate participants on the burden and life-changing consequences of fractures in older adults.
Action priority matrix workshop activity posters – an A3-sized chart for use during educational workshops.
Invitation templates for participants to attend the workshops.
Workshop RSVP and registration templates, evaluation surveys and certificate of completion templates.
Access the Toolkit
To access the APFFA PCP Education Toolkit, please complete this short form. Upon completion you will gain immediate access to the Education Toolkit contents.
Privacy statement
The security of your personal information is important to us. We follow generally accepted industry standards to protect the personal information submitted to us, both during transmission and once we receive it.
If at any time you would like to remove your details from our system, you can email us at secretariat@apfracturealliance.org. Our full Privacy Policy is available on our website.
Thank you for completing and submitting this information. Please follow us on LinkedIn.
Conley, R.B., et al., Secondary Fracture Prevention: Consensus Clinical Recommendations from a Multistakeholder Coalition. Journal of Bone and Mineral Research, 2020. 35(1): p. 36-52.
Royal Australian College of General Practitioners & Osteoporosis Australia, Osteoporosis prevention, diagnosis and management in postmenopausal women and men over 50 years of age. 2017.
Unnanuntana, A., et al., The assessment of fracture risk. The Journal of bone and joint surgery. American volume, 2010. 92(3): p. 743-753.
David, M., How to prevent the second fracture: systems for secondary prevention. Orthopaedic Proceedings, 2006. 88-B(SUPP_I): p. 11-11.
van Geel, T.A.C.M., et al., Clinical subsequent fractures cluster in time after first fractures. Annals of the Rheumatic Diseases, 2009. 68(1): p. 99-102.
National Institute for Health and Care Excellence. Osteoporosis assessing the risk of fragility fracture. Jan, 2020]; Available from: https://www.nice.org.uk/guidance/cg146/resources/osteoporosis-assessing-the-risk-of-fragility-fracture-pdf-35109574194373
International Osteoporosis Foundation (IOF). Osteoporosis Facts and Statistics. [Jan, 2020]; Available from: https://www.iofbonehealth.org/facts-and-statistics/calcium-studies-map.
United Nations. Ageing. [Aug, 2020]; Available from: https://www.un.org/en/sections/issues-depth/ageing/.
Sambrook, P. and C. Cooper, Osteoporosis. Lancet, 2006. 367(9527): p. 2010-8.
Ebeling, P.R., et al., Building healthy bones throughout life: an evidence-informed strategy to prevent osteoporosis in Australia. Med J Aust, 2013. 199(S7): p. S1-s46.
Cooper, C., The crippling consequences of fractures and their impact on quality of life. The American Journal of Medicine, 1997. 103(2): p. S12-S19.
Share the Toolkit with your colleagues